LIFE & WORK
The Evolution as Artist
Japanese artist and art therapist Meera Hashimoto (1947 - 2017) dedicated all her life to painting and for more than 40 years guided others to discover their own hidden creativity and inner source of joy and playfulness.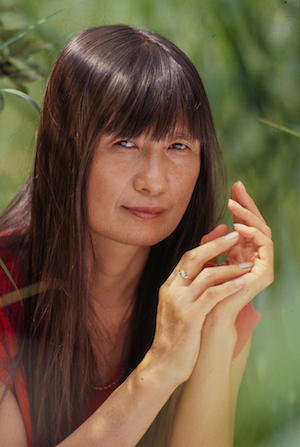 She was born in a remote fisherman village in Ishikawa province of Japan as Kasue Hashimoto. Her mother was a Haiku poet and her father played the Japanese Shakuhachi flute. From early age on she was painting and won many prizes at school. Her teachers praised her natural talent at finding aesthetic color combinations, but she considered herself especially good at drawing. With age 19 she passed the entrance examination and started to study at the famous Musahino art university in Tokyo from 1966-1969. There she studied Western and ancient Japanese art and had many influential and eccentric teachers, who supported her to get in touch with her inner creative impulse rather than being overly concerned with technique and form. Her specialization was in Western oil painting and after completing her degree she had a strong urge to see some of the great masterpieces of European art.
In 1969 the young age of 21 she travelled through Russia partly to see the Blue Period Picassos in the Hermitage museum in St. Petersburg (called Leningrad at that time). Then she continued via Sweden to Oslo to see the paintings of Edvard Munch. With such influences she developed an attitude that art should reflect the deepest human emotions that normally can't be expressed: deep pain and suffering, madness, sorrow and agony. She left Japan far behind, not only geographically but artistically as well.
Meera visited museums and galleries all around Europe, including Copenhagen, Hamburg, Munich, Paris, London, Florence and when she came to Spain to see the works of Goya and El Greco, she felt the impulse to settle in Toledo. There she met a special teacher, who later also became her partner and who helped her to bring a new quality to her way of drawing, a modern, more existentialist approach that transmitted the essential 'isness' of a subject. With him she also learned the beauty of using grey as a dominant color, which later became very important in the self–portrait section of her trainings.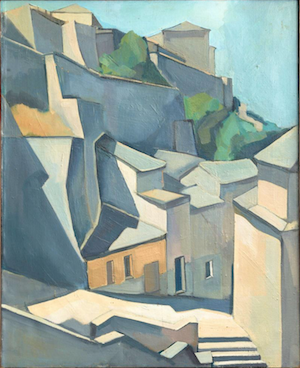 Living in Toledo for seven years she continued her studies at Circulo De Bellas Artes, Madrid and the Escuela De Arte, Toldeo from 1970 to 1972. In 1971 she had her first solo exhibition in Toledo (her Artist name in this time was 'Kasue') and became a co-founder of an art group called Tolmo that became famous with exhibitions all over Spain, Portugal and Switzerland. They had their own gallery in Toledo and Meera was the only female member of that avantgarde group of intellectuals and artist. They had long discussions about art and politics and Meera absorbed a certain 'male' approach towards art including the idea that for a real artist it is important to have one's own style.
At that time Meera was inspired by the paintings of Cezanne and she translated his concern for the integrity of the painting into her own paintings of Toledo's amazing architecture. It was a time of material poverty for Meera, but she felt rich learning much about art in this unique city with so many influences from Muslim, Christian and Jewish origin.
After three years living in Spain upon returning to Japan for a visit, she met a German professor and teacher of anthropology and architecture, who inspired her to rediscover the beauty and simplicity of ancient Japan. It was like a spiritual and aesthetic homecoming. The beauty of Japan that Meera had rejected and turned her back upon, choosing instead the chaos and wildness of western modern art, was coming back to her through the eyes of a foreigner. She had gone to the West to find her freedom of expression, while he had gone to the East to fill his soul with silence and beauty.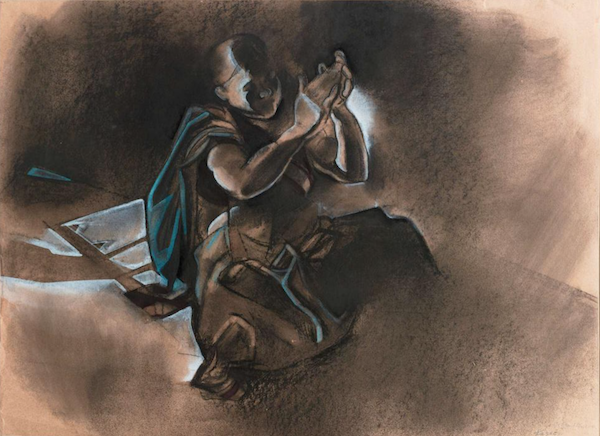 It was in 1974 when her new friend took her on a journey to India to see the important works of art in India. Travelling through India Meera's love for hidden symmetry merged with a spiritual quality of longing that gave a new dimension to her art. It was during this journey that she met the Indian mystic, Osho, who left a deep impression on her and became her spiritual master initiating her into the path of meditation and changing her name from her original Kasue, which in Japanese means first branch, to Meera, which is also the name of a famous Indian enlightened woman.
Meeting Osho was a transition point in Meera's personal life and also in her life as an artist. Through meeting Osho Meera discovered the quality of playfulness that had been missing in her way of looking at art. She learned not to divide between the artistic and the mundane and that all human activity is equally significant. It was a blow to Meera's ego as an artist and a liberation at the same time. She not only discovered meditation, the art of going inside oneself, but also how a playful, non-serious attitude can help the outer expression of art.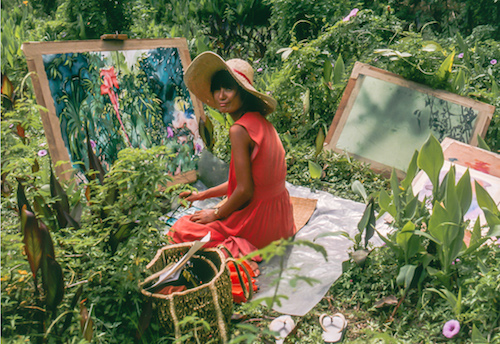 During Meera's travels through India she developed a different idea about painting, less connected with emotion and intellect, more connected with the longings of the human heart. Her love for hidden symmetries in nature merged with a spiritual quality of longing that gave a new dimension to her art. She was interested in expressing nature's hidden message rather than in merely coying nature's beauty.
Meera's artistic expression changed many times over the years. She painted in various styles, at times abstract or at other times more realistic, and chose different objects for her paintings, but nature remained her big passion. Coming from Japan, the country of Zen, she had gone to study Western art and drawing and then rediscovered the beauty of Eastern art, bringing together the understanding and clarity of the West with the spontaneity and mysticism of the East.
Zen or oriental paintings are very spontaneous, more like calligraphy. One follows whatever comes and then it is complete. It has its own in-built perfection. Western art on the other hand traditionally is more a goal-oriented approach, where one tries to achieve something, for example to create a three-dimensional appearance on a two-dimensional paper.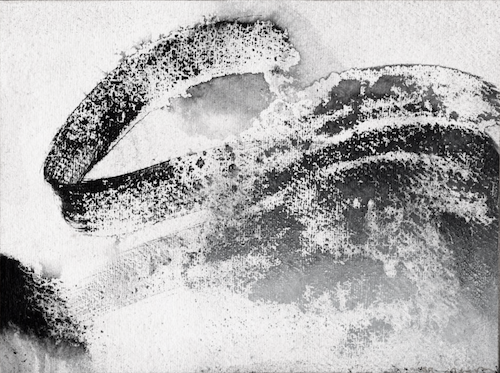 As Meera says, she wants to create paintings
that come not out of the head, or intellect,
but emerge through spontaneous action,
playfulness and an awareness of the present moment.



The Development of Art Therapy
In November 1979 Osho asked Meera to create art groups, which she established with the help of Geetesh Gibson, a fellow artist. They experimented how to teach art and creativity in combination with meditation in a group setting. Together they created and lived in art communities in Amsterdam, Sicily and California between 1981 and 1987, where they painted with fellow artists. Simultaneously Meera began to teach art in workshops and trainings around the world.

Between 1987 and 1989 Meera spent extended times in India and made approx. 1500 paintings for Osho's books. 500 were directly chosen by him to illustrate 42 of his books.
After her sister died in 1987 and after Osho died in 1990 Meera fully dropped any idea of painting for others, but while painting was only focused on giving expression to her own inner experience of joy, beauty and silence. Even though she kept a studio in India and she kept painting in different locations around the world, teaching others to find their own inner creativity became more and more important to her and took most of her time.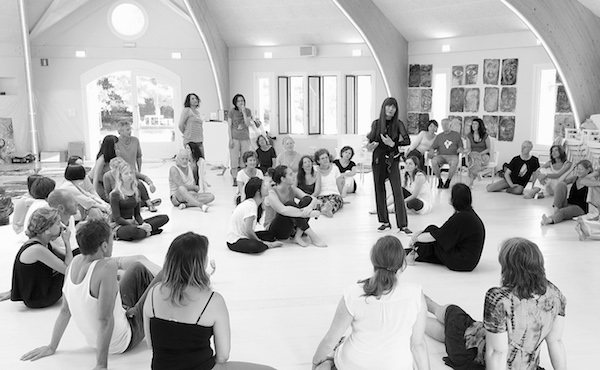 From 1987 to 2017 she conducted yearly painting trainings at the Osho Resort in India and in various locations around the world, including Spain (Ibiza and other locations), Greece (Paros), Italy (Tuscany), Sweden, Denmark, Germany and Brazil. She never missed the cherry blossom season in Japan and gave special cherry blossom painting courses in her home province of Ishikawa.
As her fame as a unique teacher of art and creativity spread, she was invited to conduct workshops in more than 30 countries and taught thousands of people how to find their source of creativity and joy. Her international art school attracted people from around the world and her participants kept returning, refining their understanding of how to paint from an inner state of emptiness. Many of her students became artists in their own right.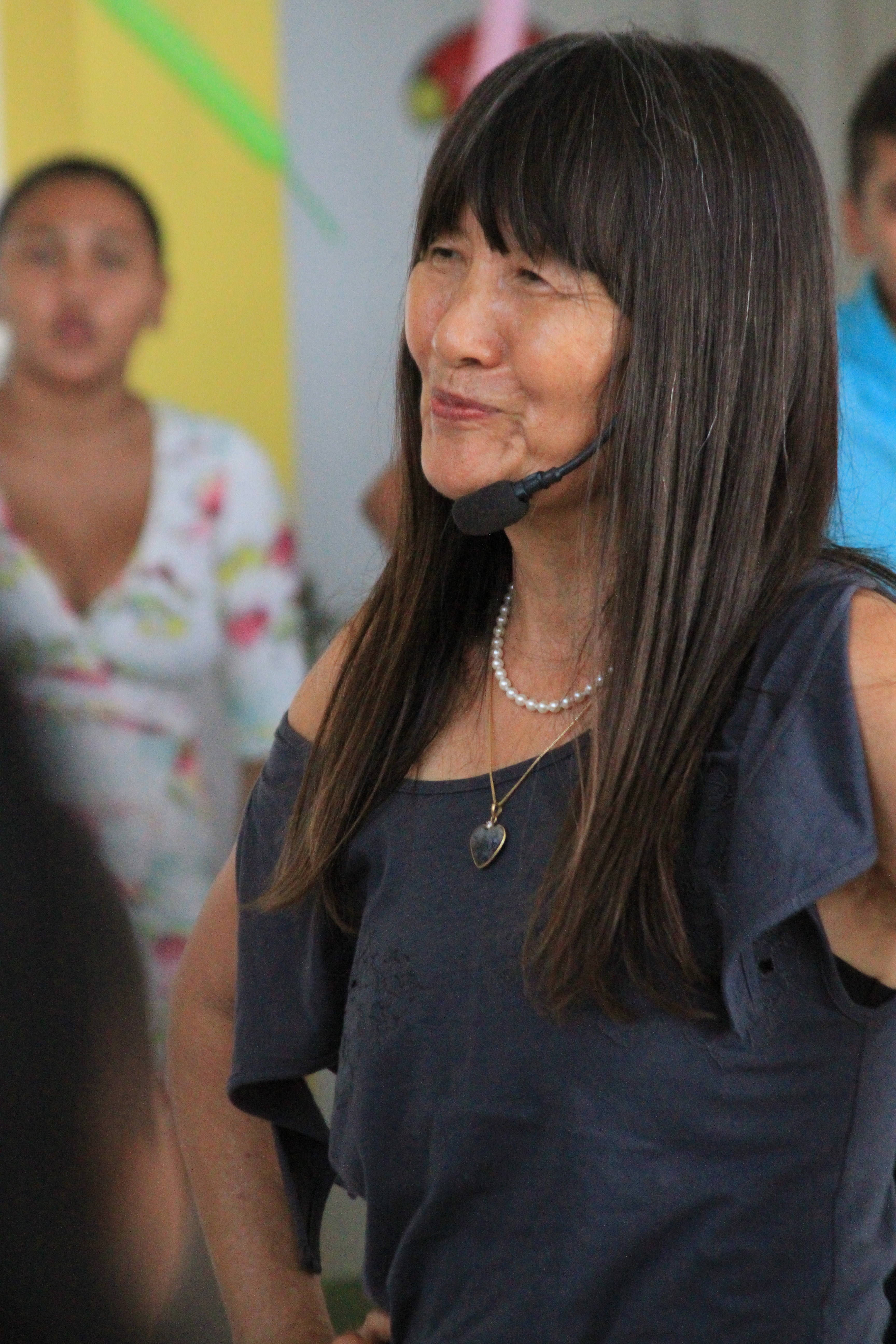 Meera combined painting, meditation, dance and modern therapy methods in her courses and since 2000 developed a unique form of art therapy that is documented in many videos and in her two books that are translated in many languages.
Her focus was not to teach a specific technique of painting, but to help people find their sensitivity, spontaneity, self-trust and to follow their creative impulse and flow of energy. In this way her students learned to paint from their guts, not from the intellect and connected to their own originality. Meera developed a process called 'Primal Painting', where people reconnected with their child like innocence and spontaneous expression, learning to paint forms without using the mind.
Meera was also a passionate dancer and performer. The end of her trainings usually culminated in an exhibition and big multi-media performances, where dancers, musicians, singers and other creative people were invited to contribute. In her youth she had studied Japanese dance and dancing was a big part of her life as well as played a major role in all her courses.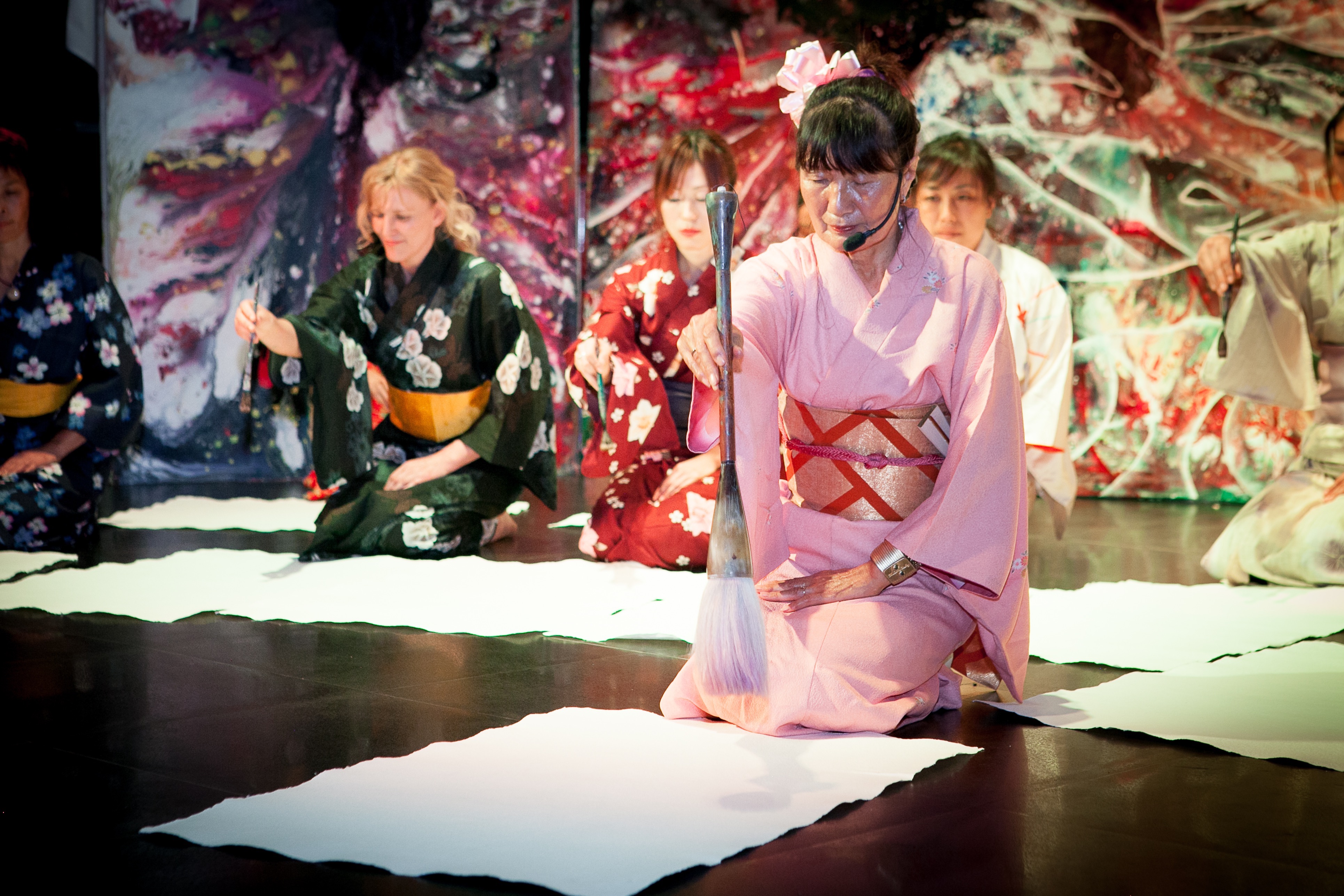 One might have booked a painting course with Meera with the intention of playing with colors, but found oneself caught up in a whirlwind where dancing, exploring emotional aspects of one's life and entering deeper self-awareness was all part of a very unconventional process of learning about art and creativity.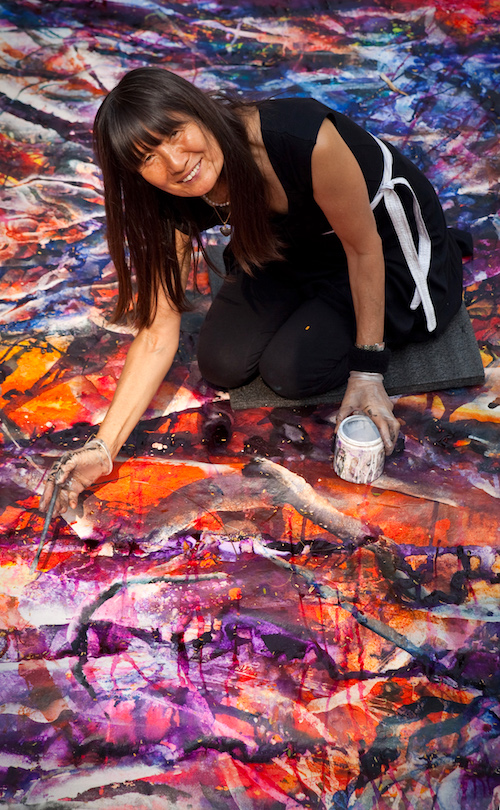 It was Meera's passion not only to teach people about the mystery of creativity, but also give them a taste of the joy, aliveness and child-like innocence she was so full of.
In her words:
"Each day is filled with a sense of newness. Each day, I'm intrigued by the discoveries I make as I throw myself into the unknown. I feel like a scientist, constantly developing new methods, and new techniques. It's an ongoing process and there seems to be no end to it. Paintings coming out of this approach are a surprise to my own eyes, and I want to bow down to every new painting that is born in front of me. In such moments, I feel the significance of being alive, and if I can share this thrill with others, so they can make their own footprints on this earth, giving birth to their own creativity, then I am most happy."
Meera lived together with her husband in Munich Germany since 1993 until she passed away in a sudden and tragic scuba diving accident in South Africa on February 21, 2017.